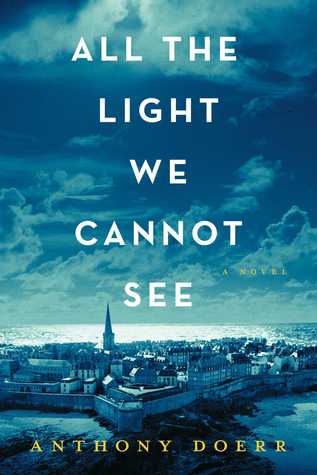 Image from Goodreads.com
Book Review: All the Light We Cannot See by Anthony Doerr
Scribner. May 2014. ISBN: 978-1476746586
I waited a long time in line for this book at the library. When I first put myself on the holds list, I was 213th in line, and with a little bit of patience (and a lot of copies in circulation!), it finally landed on my desk. Problem was, when I got it I really wasn't in the mood for a WWII historical novel that was over 500 pages long, and I had a bunch of other books to read as well. I let it sit on my desk, silently judging me for not passing it on to the next eager patron on the waiting list, and just before I was about to check it in and send it on its way, I had a sudden urge to give it the benefit of the doubt. I would prove that I wasn't interested! I would just read a few pages...and now here I am, writing this review.
Summary:
This book follows the stories of two children before and during WWII and leads up to their ultimate convergence in the occupied French town of Saint-Malo. Spanning several years, the story is told from the alternating viewpoints of orphan Werner Pfenning, who grows up in the mining town of Zollverein in Germany, and a blind French girl named Marie-Laure, whose father works as a locksmith for the
Natural History Museum in Paris.
Werner lives in a children's home with his sister Jutta, and becomes especially good with radios. He gets the attention of the Third Reich, and is eventually recruited into a Hitler Youth school. Marie-Laure meanwhile, learns how to navigate without sight through Paris with the help of her father, who builds her a small replica of the city. She and her father eventually must flee Paris due to the occupation, and go to live with her great-uncle in Saint Malo, a tiny island off of the coast of France.
Impressions:
This book was beautiful in every aspect of the story - the characters, the plotting, the language, the detail. The language was especially incredible to me - all at once poignant, but not overwrought - leaving little images, or sounds, or textures, lingering in your head. The feel of being in S
aint Malo smelling the sea air as a thousand snails crawl at your feet. The sense of dread as you wait in a truck beside Werner in a field full of sunflowers. It was easy to get hooked right away - Doerr's short chapters alternate voices, giving you a new perspective every few pages. This is great for short attention spans, and for short chunks of reading time (me on my lunch break, for example). Even as the story shifts from 1944 Saint Malo on the day that it is being barraged with bombs, to 1940 Paris as Marie-Laure and her father evacuate the city, Doerr's use of present tense makes everything feel crisp and of-the-moment.
It's a gorgeous story through and through, and those 531 pages were worth every word. Moreover, as does good literary fiction, it really reminds you that not everything is black and white, and makes you question what you would do under similar circumstances.
You'll like this book if you like:
great characterization

descriptive language

historical fiction

realism with no sugar coatings
And just for kicks, check out this video of author Anthony Doerr talking about All the Light We Cannot See!